Once Upon A Time …
in the Edit Bay?!
Welcome to Moving Pictures Media Group's Fall 2019 Newsletter. Our intention is to keep you updated on projects we're working on, and to provide resources for filmmakers who are seeking information about how to get their film or television projects into production. In short, that's what we do!
Consider us a one-stop-shop for development and production services. Whatever pieces you already have in place, we can work with those, then fill in the remaining holes in your development package in order to prepare your project for presentation to capital financiers.
Once Upon a Time … in the Edit Bay?!
By Mike Minkler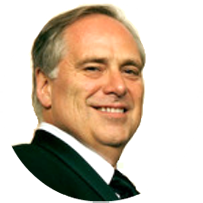 I've never had so much fun mixing a film as I had on "ONCE UPON A TIME…IN HOLLYWOOD".
All of Quentin [Tarantino]'s films are a treat to work on and their uniqueness is cinematic genius. This is my 7th collaboration with him (8th if you count both volumes of Kill Bill), and this is my favorite as well as one I could really relate to.
I was 17 in 1969 and started my film career that summer and my days were spent in and around Hollywood.
Sometimes my first introduction to QT's films is watching the rough cut. Always an amazing and exciting event. But OUATIH, started with a private script read behind locked doors.
The script left me shaking with excitement and wonder. How will he put this fun filled, entertaining story on film? It was such a brew of art imitating life and the musical joy in a turning point in American culture. The music does not so much accompany the story as much as the story accompanies the music. A perfectly successful balance in storytelling.
It has been my privilege to work and laugh alongside this Master for the last 22 years. We are all eagerly wondering what the next adventure will be. — MM
Development Process
This section will focus on another aspect of the development process. To begin … what kind of projects get our attention?
In short, we seek good stories first, genre is not a factor. With our group of producers, at least one of us will love any genre!
Creating a Single-Purpose Entity
A very basic first step in development is to create what is referred to as a single-purpose entity, often an LLC – also known as a Limited Liability Company, but it could be any form of corporate structure that fits the project.
There are numerous reasons for this, but our primary objective is to create a self-contained "bubble" which is responsible for all legal and financial activities related to the project, whether it be a film, television or web production. This legal entity also shields the filmmakers from personal liability.
As funding becomes available, all monies are directed into accounts owned and managed by the single-purpose entity, and hence, the filmmakers. During development and all stages of production (including pre- and post-), MPMG will issue drawdown lists as needed, identifying vendors that need to be paid, amounts and due dates. After review, the filmmaker(s) will then need to approve and sign off on the drawdown in order for any payments to go out. This is our way of eliminating the potential for conflicts of interest.
PLEASE NOTE: Our sweet spot for budgets is $3M to $12M. We do not accept projects under $1M. If your project warrants more than $12M, we're willing to explore the possibilities with you.
Film Finance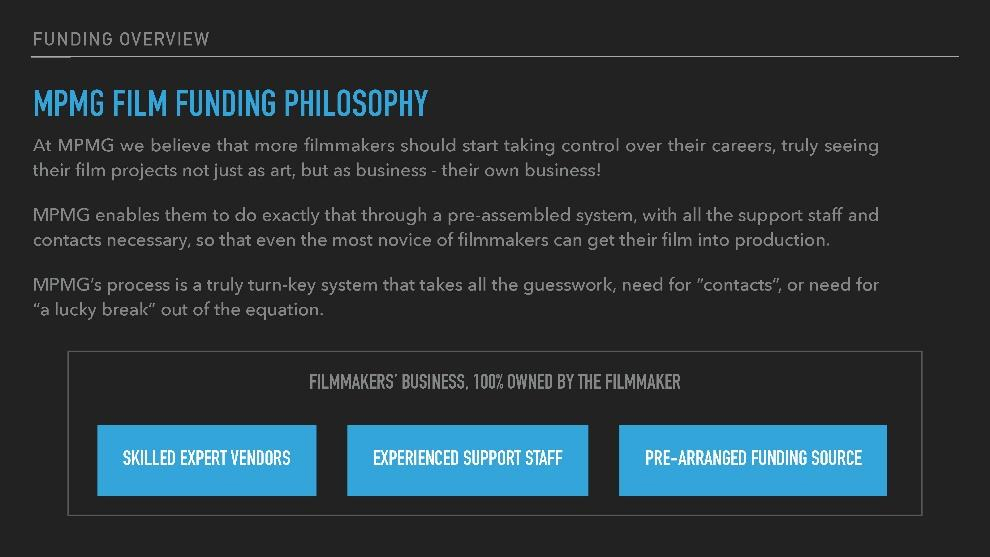 In our last newsletter, we talked about two rounds of funding (development and capital) and three types of finance (equity investors, deficit finance or debt finance).
Development Funding
The first round of funding is to cover development costs. These are fees and expenses related to assembling the necessary materials in preparation for presenting the project (film or television) to financiers. In our business model, these costs are the responsibility of the filmmaker. Our financiers do not pay people to package a project in order to pitch it to them.
Equity Investors
Equity investors, also known as executive producers, may be private or institutional. They primarily invest in projects in return for financial gains and, of course, credits.
There are a number of additional incentives available that a filmmaker may offer, scaling them up as investment dollars increase. You might want to start with something simple, like putting them at a table in the background of the café scene, for example. This is all a part of our consultation process.
Start learning more by downloading our Corporate Presentation (PDF).
Meet the Filmmaker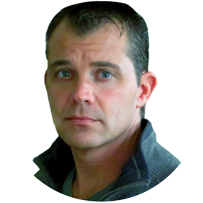 Ray Ellingsen began his film career in 1987 as a writer and has since gone on to pursue numerous aspects of filmmaking, from directing and producing, to supervising the post-production of feature films, documentaries and commercials. Read more…
Production Updates: 22
By screenwriters Bradley Melson and Steven Paul Taylor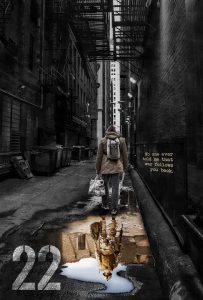 Currently in development, 22 is a feature film screenplay written by Bradley Melson and Steven Paul Taylor.
Bradley is a Marine Corps veteran of the War in Afghanistan, having served two full tours in combat, while Steven has served over 9 years in the Air Force Reserves as an MP with multiple deployments to Saudi Arabia and the United Arab Emirates in support of Operation Inherent Resolve.
While both Bradley and Steven have had different experiences in Middle East operations, they both have seen how the realities of war have affected their friends upon their return home. While both men have served in the Middle East, 22 is dedicated more to Bradley's involvement in Marine Corps urban warfare and ground combat as the story itself resolves around two brothers in a Marine Platoon.
22 uncovers a dark world full of secrets that veterans who have served in combat experience upon their return home. The movie touches on the sensitive subjects of PTSD, homelessness, alcohol addiction and suicide.
As Hollywood has generally had success in entertaining audiences with heroic military stories, they sometimes compromise integrity in the real story for entertainment value.
As veterans and filmmakers, we understand the need to compromise being truthful and honest to the soldiers involved, while also telling a story that entertains our audiences and is easy for them to understand. That's what we hope to accomplish with this film.
About the Author
The MPMG Newsletter is written by development executive and producer Lee Roth. His job is to seek out new projects … every. single. day!
Feel free to contact Lee, or any of our executives, via our contact page.
# # #
The MPMG Newsletter is Published By:
Moving Pictures Media Group
11900 W Olympic Blvd Suite 450
Los Angeles, CA 90064
310-475-5207
Contact Us Online